With the days merging into an endless loop of TikTok dances, sad Will Smith memes, and Instagram Live notifications, the golden rule of lockdown is that there are no rules at all.
It's been easy to stay in casual shorts and T-shirts during this time, ignore makeup, and cut down on product usage. After all, half the fun of tending to your skin is to look good out-and-about, so when the latter is not an option, you might be wondering if it's still worth maintaining your daily skincare routine.
However, here at the BioRepublic, we believe that skincare is one thing you should prioritize more than ever during self-isolation. A healthy skincare routine can make a big difference in how you feel, even if you're spending most of your time indoors, and it's easier to maintain than you think!
We've already looked at how you can turn your bathroom into an at-home spa during this time, as well as how to address breakouts, so let's look at why keeping up with your skincare routine is also important.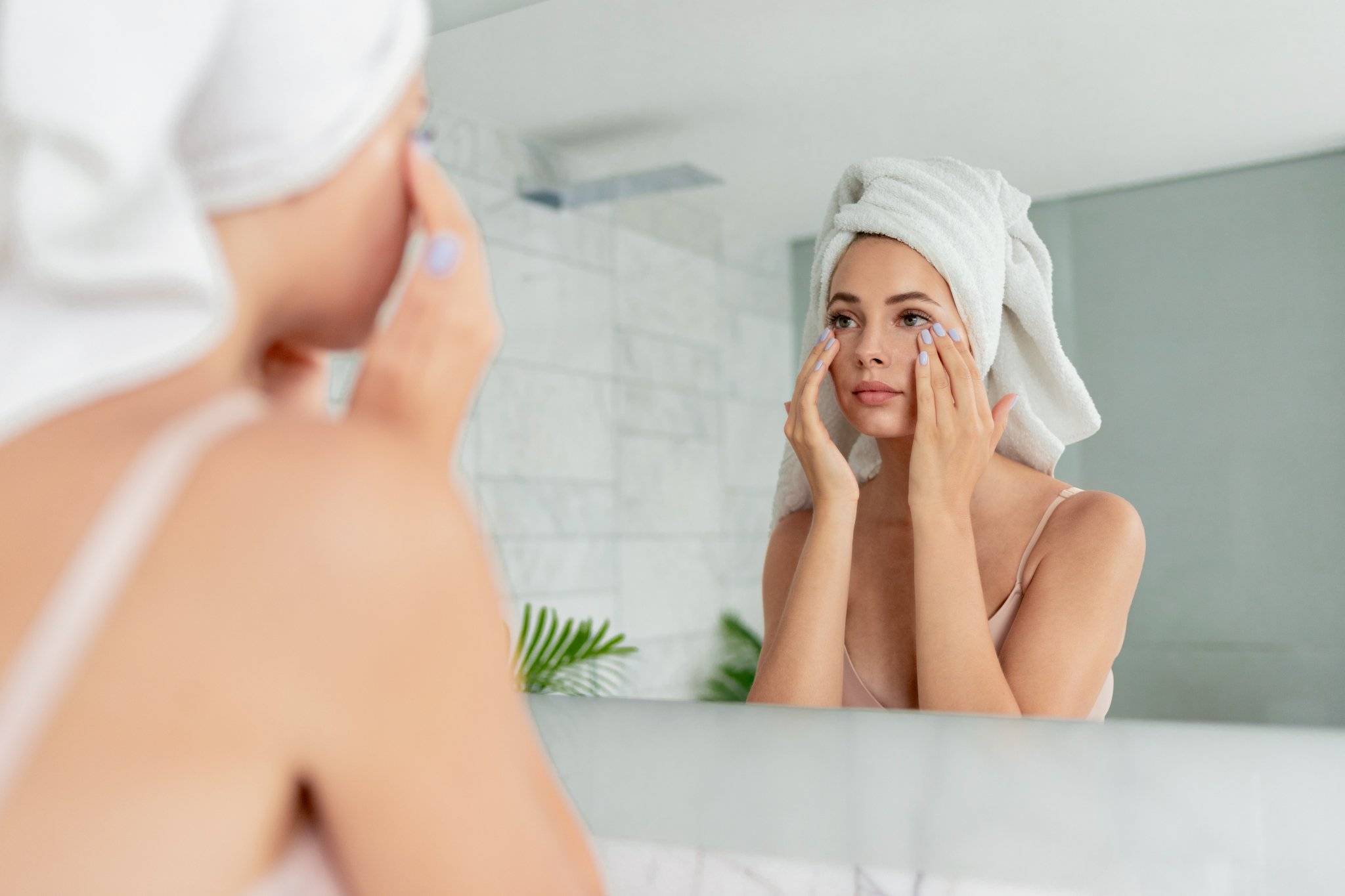 1. Your Skin Doesn't Get a Day Off!
Perils of pollution, diet, and harsh weather can all affect how good your skin looks. Although some of these factors may well be minimized during the lockdown, your skin is still your biggest organ and functions to protect you from all aspects of life, no matter what is thrown at it.
With this in mind, it's crucial that you keep up with a healthy skincare routine so that your greatest defense is never breached. Even better, with organic skin care products, you know you're not subjecting your skin to unnecessary issues due to added chemicals.
2. Minimize Flare-ups From Modified Routines
Skin can be fussy at times. It's a proven fact. Even if you're blessed with fabulous skin, just like food, the smallest changes can have a big effect on its health. By keeping up with your skincare routine during self-isolation, you'll ensure that you won't have to make big changes again when normalcy returns. This gives your skin the best chance to glow when you're finally able to hang out with your girls or head back to the office again.
3. People Are Still Likely to Have a Glimpse at You
If what matters the most to you is ensuring you look good to other people, in many ways, it's more crucial than ever that you adopt a healthy skincare routine during these times. With the rapid growth of Zoom calls, you'll likely have at least one group meeting weekly, if not daily, where your comrades will be chatting with you in this advanced version of one-on-one conversations.
It's not just for work, either: family and friends are best reached via a video call, so if you want to share some hot gossip with them, you might as well do it with radiant skin!
4. Your Skincare Routine Offers Normality
At this time, we're all looking for ways to look and feel "normal," be that regular dining times, at-home workout sessions, and trying out our typical 9-5 schedules. Your skincare should form an essential part of this, helping you prepare for whatever obstacles you might face, whether on a national scope or smaller.
A healthy skin care routine sets you up for a steady start and a restful end to your day, helping you attain your goals along the way. Just because you're stuck at home, it doesn't mean you should feel any less unprepared to accomplish your targets as successfully as you would pre-Coronavirus.
5. You Have Time (Lots of Time!)
While we're all hunching down at home, most of us are have more time on our hands than we need. Use this time to really improve your skincare routine and give your skin the healthy glow it deserves: try out BioRepublic On The Glow Kit, for example, to experiment with various organic facial sheet masks, or finally say goodbye to those breakouts you haven't quite managed to control.
Now that evenings are longer and less utilized, it's an even better chance to give yourself some pamper-time and enjoy going over your skincare routine bit-by-bit before a good night's sleep.
6. A Healthy Skin Care Routine Improves Your Mood
Coronavirus has put everyone's mental wellness to the test. Quarantine has been hard to accept, preventing us from enjoying that much-needed social contact we depend on to get by. This makes it even more crucial that you keep up with your skincare routine while quarantine persists, as channeling more effort into looking your best will help sustain your feeling of self-care and value.
Organic skincare routine is especially pertinent, as you can be sure you're giving your skin that all-vital hydration and attention that it (and you!) needs. Why not take this self-care to the next level by extending your pamper-time to include a healthy skincare routine?
7. Skincare is Fun!
Sometimes, taking care of your skin might seem like a chore. However, the most important reason for keeping up with a healthy skincare routine can be summed up in seven letters: it's fun! Tinkering with your favorite products, having hydrated skin, seeing new results, and feeling revitalized are all part of a regular skincare routine.
Besides, we need small pleasures to keep us smiling at this time, and the fun experienced when applying products like Aloe Rescue Revitalizing Sheet Mask can really lift your spirits!
The Take-Away
It's crystal clear that there are many reasons why you should maintain a healthy skin care routine during this social distancing period. Come rain come shine; your skin will always take care of you, as long as you treat it right. The Bio Republic is here to help you look (and feel) your best at all times, even if normalcy doesn't return for the foreseeable future.
Why not explore all our organic products today and see how we can help your skin look its best? Remember that we also have a range of gift cards, so if you have a friend who needs something to cheer them up this lockdown, you know what to do!
---