What is Mature Skin?
The natural aging process can affect many different parts of our bodies, especially our skin. Aged, or mature skin is often drier, thinner, duller, and more prone to wrinkles and age spots. There's no set number for when you might start to experience mature skin. Everyone's skincare journey is unique, and it all depends on internal and external factors like genetics, lifestyle, sun exposure, and other free radicals.

The reality is, aging is a sign that your body, more specifically your skin, needs something it is no longer producing or maintaining on its own. Creating a customized routine and using the right skincare products can help you restore, protect, and maintain the smooth, firm, and radiant skin we all dream of.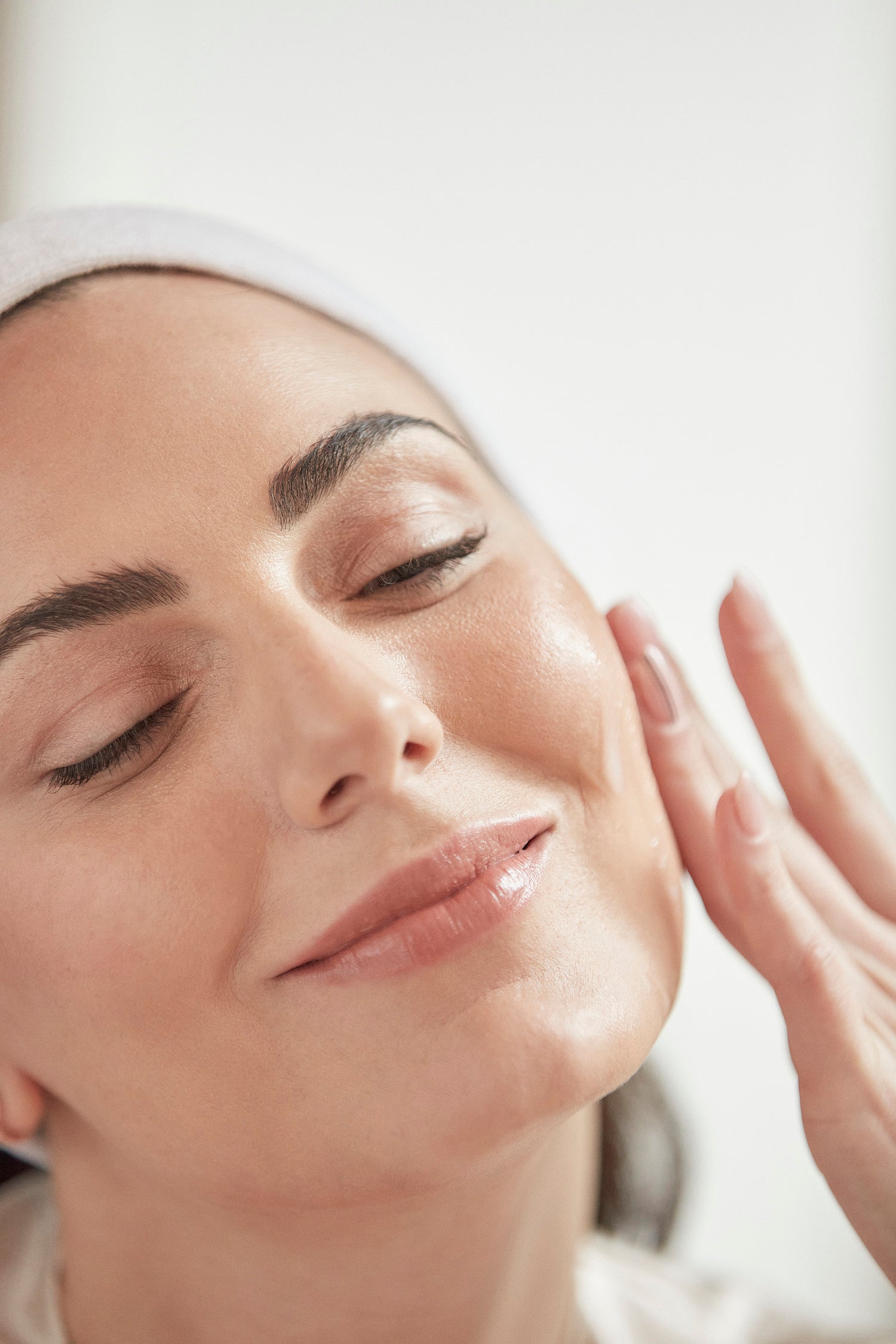 Caring for Mature Skin
Whether you're looking to prevent aging, restore your skin tone, or reduce the appearance of wrinkles, caring for your skin will require a balance of good skincare habits and healthy life choices.

There are a lot of new treatments, products, and trends associated with anti-aging, so how do you know what is legit and what's not? It's all about the ingredients. Products that use natural, proven ingredients are key to seeing results and highlighting your youthful appearance and healthy glow.

The most effective anti-aging ingredients include peptides, hyaluronic acid, vitamin E, and aloe vera. Other, more exotic ingredients that are long known to promote youthful skin are Saussurea Involucrata (Snow Lotus) and Coenochloris Signiesis (Glacial Snow Algae).
NATURAL INGREDIENTS DELIVER
MAXIMUM RESULTS
Moisturize
 
Aging skin is often drier than younger skin, so it's important to use a good moisturizer to keep your dry skin hydrated. Look for products that contain ingredients like hyaluronic acid and glycerin, which can help retain moisture and improve skin elasticity.
 
Exfoliate
 
As we age, our skin's natural exfoliation process slows down, leading to a buildup of dead skin cells. Exfoliating regularly can help remove these dead skin cells and improve skin texture. When exfoliating mature skin, you'll want to be gentle and avoid using harsh scrubs or brushes.
  
Protect
 
Your skin has protected you all your life, and now, it's time to protect it. The sun's UV radiation is one of the most damaging factors for your skin and can lead to premature aging. Adding broad-spectrum sunscreen into your daily skincare routine can protect your skin on a daily basis, and using high-SPF sunscreen when you're outside for an extended period of time is vital to avoid sun damage.

To better protect your aging skin, you'll also want to use natural products as mature skin is often more sensitive than younger skin. Look for gentle, non-irritating ingredients, and avoid using any formulations that use harsh chemicals or fragrances.
 
Restore
 
To restore your skin's elasticity and glow, you'll need to provide your skin with all the nutrients it might be missing. Peptides are a great way to do just this, boosting collagen production, repairing damaged skin, and leaving you with lasting hydration.
 
Highlighting Anti-Aging Korean Skincare
Korean-American businessman and BioRepublic CEO, Justin Hong built our brand with inspiration from Korean beauty rituals, including Korea's innovative and effective anti-aging efforts. Korean anti-aging skincare is characterized by a focus on hydration, nourishment, and protection. At BioRepublic, we create high- quality, affordable solutions to make these steps accessible to everyone.

We offer face serums and creams that are formulated with high concentrations of active ingredients. These products can help to address visible signs of aging, such as dark spots, fine lines, and sagging skin. Our Peptide Therapy line is the ultimate anti-aging cream and serum duo, both of which boost collagen production and leave you with moisturized, younger-looking skin.

We also feature some of the most effective face masks on the market to target your unique skincare goals. Whether you're looking to repair your under-eye bags or detox your skin, our masks contain all the natural ingredients to do so.

Quality Products for Every Skin Type
At BioRepublic, we strive to make smart skincare accessible for every skin type. With natural, USDA- certified organic products, you can rely on effective ingredients that provide the maximum results. Whether you're looking to better treat your sensitive skin, combat your oily skin, rehydrate your dry skin, or restore your matured skin, we're ready to help.
Where to buy?
Shop your favorite products at:
Target - Walmart - Whole Foods
Costco - Sephora - CVS Pharmacy - and more!