Regular price
Sale price
$ 6.50
Unit price
per
Sale
Sold out
Take control of your T-zone with a clinically designed and easily applied T-zone treatment. Formulated with activated charcoal that can readily adsorb excess oils, toxins, and impurities from the skin's surface, our T-Zen mask will leave your face's T-zone dirt-free and unblemished. Made with binchotan charcoal, the T-Zen mask is a gentle cleanser and exfoliator that can be used on all skin types.
Why we love it:
There's nothing like it on the market!
T-zone issues are relevant for everyone: From regular blackheads to hormonal breakouts to sweaty foreheads from exercising or wearing hats/helmets, we could all use a T-zone refresh treatment.
It's easy and effective! You don't have to mix + brush something all over.
View full details
· Evermat is the pore-firming factor and is a patented ingredient that can balance skin oil production, improve skin oil problems, and purify and tighten the pores, effectively taking care of the skin condition.

· Dermapur HP The Spiraea Ulmaria Extract is a patented ingredient that can balance sebum secretion and purify pores.

· White Willow Bark Extract can regulate the secretion of the skin oil, purify pores, and help the skin restore a clear and bright feeling.

· Witch Hazel Extract Contains high amounts of tannins, which can relieve discomfort and help moisturize.

· Aloe Vera Extract is rich in mucus and polysaccharides, which can lock the skin's epidermal moisture, preventing dry and rough skin.

· The mask is made with activated charcoal that can readily adsorb oils, toxins, and impurities from the skin's surface, leaving it dirt-free and unblemished. In addition, binchotan charcoal is gentle enough to be used on all skin types.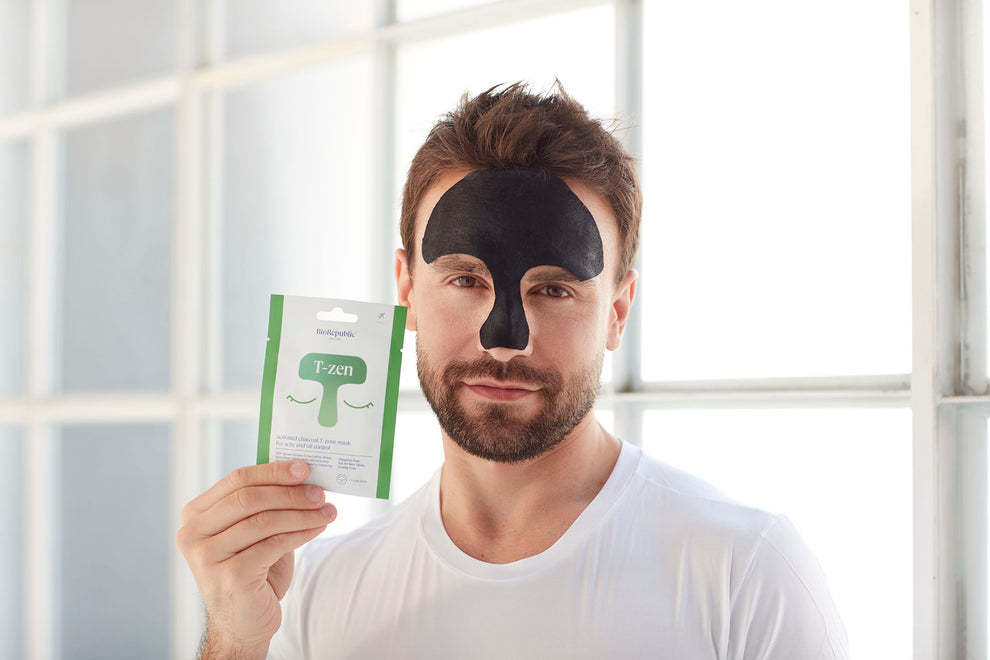 The T-Zen mask just keeps getting better... This treatment is great for ALL skin types. Especially those who experience an oily T-zone and acne-prone skin. If you regularly work out or wear hats and helmets, this mask is exactly what you need to fight those annoying pimples and breakouts in your T-zone area.
Gently unfold the face mask and apply it on clean skin.
Wear the mask for 15-20 minutes or until dry.
Remove the mask and lightly tap excess product into the skin. No need to rinse!
For best results, use 2-3 times per week.
You can benefit from a T-zone refresh at any time of day. Start your morning with a gentle cleanse and exfoliation to better control oil throughout the day. Take a midday break to rejuvenate your skin and combat the afternoon oily struggle... we've all been there. Or, relax and hydrate your T-zone area to remove buildup, toxins, and dirt after a long day of work or play.
T-Zone Troubles
T-Zone acne is a major issue for people with oily skin, especially those who work out or wear hats or helmets regularly.

This area, which includes the forehead, nose, and chin, is a hotspot for breakouts due to its high density of oil glands. With excess sebum production and a buildup of dead skin cells, pores can easily become clogged and pimples can quickly form.
Managing T-Zone Breakouts
Effectively treating your T-zone troubles just got easier with BioRepublic's T-Zen Mask. With all- natural ingredients including binchotan charcoal, our T-Zen mask will gently exfoliate the skin and reduce the buildup of dead skin cells, while also targeting the bacteria that can contribute to acne breakouts.

No matter what skin type, from sensitive skin to combination skin types to oily and acne-prone, the T-Zen mask is a gentle, non-irritating, and reliable solution to balance the oil on your T-zone area.
· Formulated without Parabens, Sulfates,
Pthalates, and Triclosan.
· Clean, Effective, Cruelty-free.
· Vegan.
· Leaping Bunny Certified.
· Dermatologist tested for safety.
· Activated charcoal material
· 100% Biodegradable Sheet Mask.

A NATURAL INGREDIENT LIST THAT DELIVERS MAXIMUM RESULTS.
Aqua, Propylene Glycol, Butylene Glycol, Pentylene Glycol, 1,2-Hexanediol, Glycerin, Chlorphenesin, Panthenol, Hydroxyethylcellulose, Xanthan Gum, Allantoin, Enantia Chlorantha Bark Extract, o-cymen-5-ol, Sodium Hyaluronate, Salix Alba (Willow) Bark Extract, Spiraea Ulmaria Extract, Hydroxyphenyl Propamidobenzoic Acid, Hamamelis Virginiana Leaf Extract, Benzyl Alcohol, Potassium Hydroxide, Oleanolic Acid, Aloe Barbadensis Leaf Extract, Dehydroacetic Acid, Ascorbyl Palmitate.
Clean Beauty Should Be Simple
At BioRepublic, we strive to empower you to make conscious decisions about your skin and skincare routine. Our goal is to provide you with products that are not only affordable, simple, and effective, but also transparent and environmentally sustainable.

Without a single drop of artificial chemicals, our T- Zen mask helps to protect, strengthen, and cleanse your T-zone area.